ClearPath Curbless Shower Pan System Complete Floor Kit
new, $608.40
---
ClearPath Curbless Shower Pan System
Complete Floor Kit
Available Sizes
48" x 48" (ABS or PVC) - $608.40
60" x 60" (ABS or PVC) - $726.70
72" x 72" (ABS or PVC) - $836.55
Also available other sizes (contact us)
In stock - Ship same Day
Buy Now at www.flooringsupplyshop.com
The ClearPath Curbless Shower Pan System is designed to maintain independence in life while offering today's most fashionable and sought after designs in level entry showers.
The ClearPath system offers everyone, at whatever level of ability, accessible designs that are an improvement over traditional shower pan methods.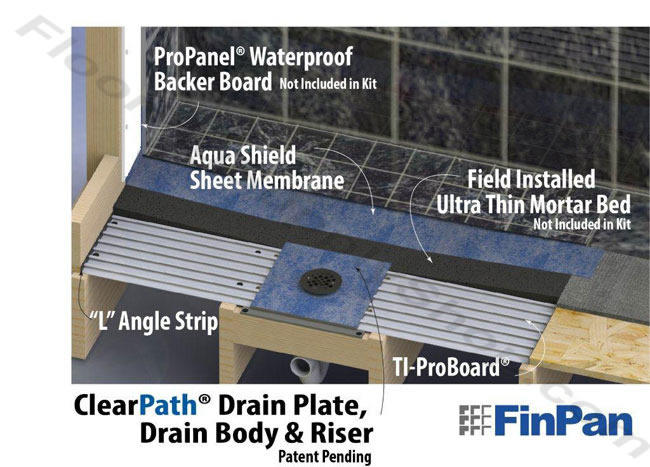 ClearPath is available in three shower kits which include drain plate with integrated drain assembly, TI-Proboard, and when used in conjunction with
ClearPath sets a path that meets your changing lifestyle needs.
TI-ProBoard offers a Commercial Floor Rating and can be cut to size and installed with standard tools. The ClearPath Drain Plate comes with integrated drain assembly and offer flexibility in positioning of plumbing. The drain plate is also pre-pitched and serves as a template for proper sloping of the thin-bed that gets applied on top of the TI-ProBoard
Available with PVC or ABS
Visit our Website for more info at www.flooringsupplyshop.com
In stock Ship same day - Nationwide
ClearPath Curbless Shower System - Video's
Step by Step Installation Instruction
Made in the U.S.A
Our store opens to the public
5047 W Jefferson Blvd Los Angeles CA 90016
Mon - Fri 7:00 am - 5:00pm
Sunday 12 noon - 4:00pm
For more product visit our web site http://www.flooringsupplyshop.com/
Or call us at 323-731-8453
Ad ID: 215414802  ClearPath Curbless Shower Pan System Complete Floor Kit, Los Angeles
Ad ID: 215414802
Posted
less than a month ago
Advertiser
Advertiser type
commercial
Nickname
flooringsupply
Registered since
07/07/2011
Safety Tips
If an offer seems too good to be true, verify its authenticity first. Use the contact form to communicate with the ad poster to protect your identity. Never send inquiries using emails and phone numbers on the ad. Use the contact form and Locanto's "My Messages". Beware of poorly-written English ads and replies. Most scams originate overseas. Report ads and messages that are suspicious. The best way to pay for an item is by C.O.D.= Cash On Delivery. Buy locally. Arrange a safe place to meet up and finish a transaction. Never pay using Western Union and other similar untraceable payment options. Consider an item sold only if a payment has been cleared and verified. No foreign checks, please. If an item can be shipped, always get it done via registered post.
Copyright © 2015 Locanto™